October 23, 2023
Superintendent's Article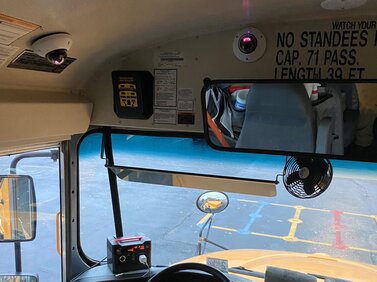 Marcellus Community Schools continues to prioritize health and safety for students and staff. As part of that focus, two safety-related projects are currently underway. Those projects include the installation of interior bus cameras and upgrades to the building and classroom access security system.
Over the course of the next few weeks, interior bus cameras will be installed on all district buses. The cameras will provide several benefits to our school community. Adding bus cameras may deter misbehavior, provide a clear record of events that take place during a commute, and could assist in resolving any disputes or conflicts that occur on buses. Additionally, video footage may be used for driver training exercises. Adding bus cameras is an investment in the safety and security of students and drivers. The district will use safety grant money to fund the project.
Also currently underway is an upgrade to the building and classroom card access system. The project started over the summer and is ongoing. The upgrade will provide for badge access at interior classrooms and other access doors. One of the project goals is to eliminate the reliance on physical door keys which can be lost or duplicated. A benefit to the card access system is that administrators can disable the card if it is lost, stolen, or if the user is no longer permitted to access a building or classroom. This safety project is funded with Section 97 School Safety grant funds that were allocated last fiscal year.
Safety Reminder:
With winter around the corner, it's a good time to review school closing information. In the event of inclement weather or emergency closings, parents will be notified via phone call through the school's messaging system. To ensure receipt of important notifications, parents are asked to maintain updated contact information with their child's school office. Additionally, closing information will be posted on the district's Facebook page and announced on WWMT Channel 3, WNDU Channel 16, WSBT Channel 22, and Wood Channel 8.
Congratulations to the football team for advancing to the state playoffs. Go Cats!
Upcoming Dates to Note:
October 27- First marking period ends.
November 2- ½ day, Parent-Teacher Conferences noon-3:00 p.m. and 4:30 until 7:30 p.m.
November 3- No school for students, Professional Development for teachers
November 14- 1/2 day for students, Curriculum for teachers
Nov. 23-25 Thanksgiving Break