There are many opportunities for students looking to go to college to find financial aid. If you have any questions, please contact the counselor's office.
MI Student Aid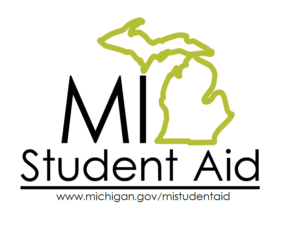 The Michigan Department of Treasury-Student Financial Services Bureau is proud to be a sponsor of MI College Goal. We encourage students and families to attend a MI College Goal event where an expert can help in filling out the Free Application for Federal Student Aid (FAFSA). Assistance is available for free at over 30 locations throughout the State.
For more information:

MI College Goal

MI Student Aid
Affordable Colleges Foundation
Affordable Colleges Foundation, an organization dedicated to providing free higher education tools for current and future college students and their families, recently published research on all the Not-For-Profit universities and colleges in Michigan that offer online college programs. Historically, online programs have only been offered by for-profit institutions. Today, many of the most established not-for-profit state colleges and national universities have launched programs that provide flexibility and lower tuition prices for students. This dataset is unique to our site and is even ahead of the curve compared to other government education data sources such as NCES and IPEDS. A few of the key features on the page:
Unique list of accredited not-for-profit institutions offering online programs, sorted by affordability
Spotlight interviews provided by many college deans with the institution's philosophy on online learning
Direct links to the specific online departments, or e-campus, of each institution
For more information, visit Affordable Colleges Online.
Need Money For College?
Attention all Juniors and Seniors interested in college but don't think they have enough money:

FAFSA – Free Application for Federal Student Aid

FastWeb